Magic Show Slots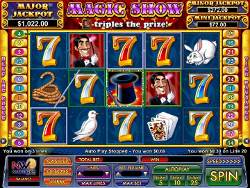 An evening at the magic show is a wonderful way to have fun when you are not spinning the reels on a great slot game. What if it were possible to get the best of both activities? Now with NuWorks Gaming's latest, Magic Show Slots, it is completely possible to get the best of both worlds! This is a beautiful new slot game that features the imagery of a magic show in an exciting and fun new game.
How the Tricks Work
Magic Show Slots is a big 5-reel 25-payline game. It accepts a single coin bet on each line, and the player has the option of setting the coin value to the most appealing level of risk ranging from 1¢ up to $1. All lines on this game may be played for as little as 25¢ per spin, or a higher-risk player may play for as much as $25. This game is obviously not suited to the true high-rolling players, but it does offer sufficient levels of risk for a mid-level player, and it may be played inexpensively enough for the casual weekend player who wants to have some fun.
Magical Symbols
The look of this game is a cartoonish rendering of an elegant evening magic show. The symbols include things like Gold Watches, Lucky Sevens, Doves, Magic Hats, Animated Ropes, and the Magician himself! Where many games use playing card indices for the lower end combinations, this one does not. Instead there are the Lucky 7s rendered in different colors so that they may be used as several different symbols.
Amazing Bonus Round
When the bonus round comes up, the player is treated to a close-up magic show. In this case, there is a single card displayed face-up, and 10 cards dealt face-down. The player chooses a card, and if he or she gets a match for the face-up card, they win 100x the bet! As they choose more cards, the multiplier goes down, but as they choose cards they are likely to win additional coins and free spins. At the conclusion of the bonus game, the free spins are played, then the player is returned to normal slot play.
Bring Some Magic into Your Life Right Now!
Magic Show Slots is an awesome new game! The look is sleek and the high-quality graphics and animations really show off your high-def monitor to its best advantage – we especially love the trails of twinkling stars that follow some animations. So settle into your favorite game station and get the reels spinning on this magical game tonight!